OPENING DECEMBER 9TH
SPECTACULUM LIBERTATIS SPOLIANDAE - New works by SCOTT GREENWALT
A new COLLECTION OF 16 WORKS.


This selection of paintings from the last year deal with a sense of foreboding and terror reflected in the distorted eyes floating over forms reminiscent of faces, comprised of knots and tendrils in a spectrum of colors as if the dermis was suddenly and violently stripped away, leaving a chaotic storm of elements flailing in space. Phallic totems rise above the horizon, pushing their way into view, displaying proudly a leathered hide, seemingly impervious to the malign forces imposed upon others.   The title comes from an A.I. translation of English to Latin for the phrase 'spectacle of the stripping of liberty'.

Contemplating the inevitable rise and demise of complex systems throughout history, my work explores notions of a manipulated, beautified world on the constant verge of collapse. Envisioning moments in time that reflect a tumult lurking just beneath the surface, threatening to rupture with magnificent force. A place where spiritual effluvia roams through space, leaving behind husks of the living things it once occupied, where new forms of life will again flourish in time. These images take on the familiar painting tropes of landscape, still life, nature painting, portraiture, architectural and history painting, rendering these various styles through the idiosyncratic lens of my particular brand of magic realism, wherein alien qualities abound in familiar formats.
This show will be on view from December 9h until January 6th 2022.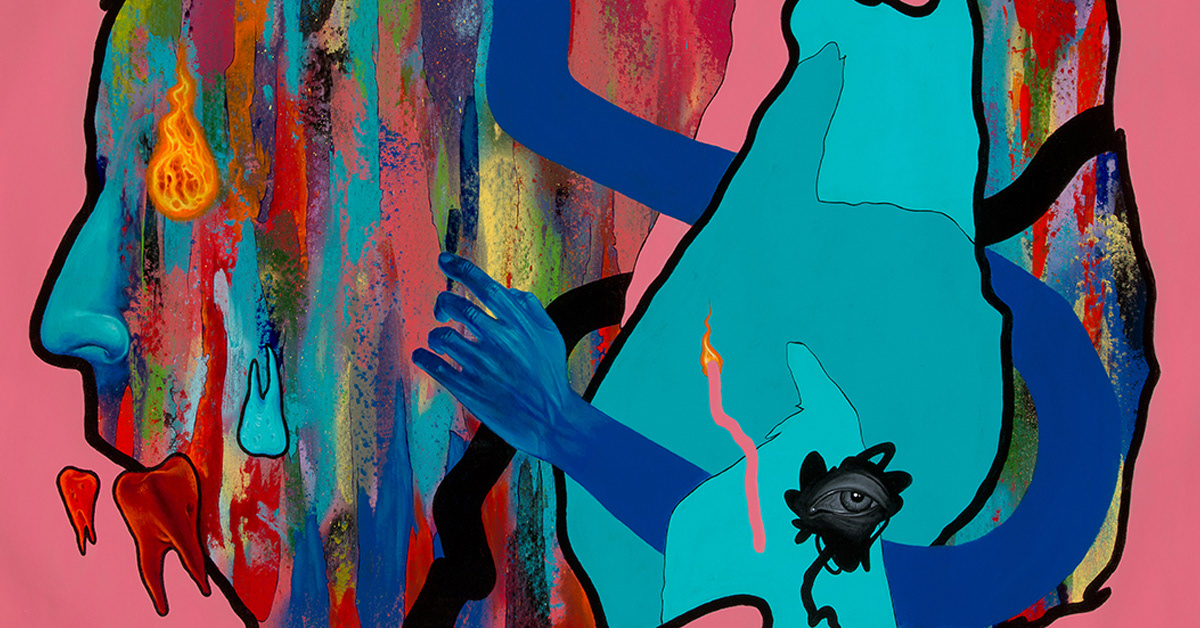 OPENING DECEMBER 2nd
LEFTOVERS - works by ANTHONY HURD
​​​​​​​
Join us as we present a collection of large scaled works by Anthony Hurd. They continue to explore the themes of identity and what makes us not only identify with the part that make up a portrait but the pieces we identify as individual human beings, and why. A practice in disassociating and detaching from what we think is "US"
This show will be on view from December 2nd 2022 until January 5th 2023.
OPENING NOVEMBER 4TH
MOMENTS - New works by MANUEL ZAMUDIO
A new capsule collection of 4 FEATURED works.


Artists Statement: The works in "Moments" are stripped down compared to my works from earlier this year. With this small series, I really wanted to create more subtle moments, but ones whose softness would contrast with harder emotions. They're moments full of longing, anger, grief, and self reflection. Technically, I think these are some of my most realistic works yet. This small series is a glimpse of what is to come.
Manuel Zamudio comes to us from the depths of the talent-rich city of McAllen, Texas. Born in Mexico City, DF, and has made his way to Texas since 1992 at the age of 5. While dealing with the challenges that often come with assimilating to a starkly different culture at a very young age, Zamudio found refuge by immersing himself in art. As a self-taught artist, he started perfecting his technique by replicating comic books, without knowing or understanding the human figure, and the concepts of color schemes. As he grew older, he started taking an interest in the urban culture of South Texas, learning color schemes, perception, shadow, and so on from local graffiti artists. At this point, Zamudio has taken his passion into a new path, storytelling. He has displayed his artwork in numerous galleries and museums in the United States and Mexico. His new line of work has been immensely inspired by great works of cinematography, street art, and post-apocalyptic sci-fi novels. Using portraits as a snapshot of his own movie, blending reality with the surreal. His new work will be exploring new methods on how to bring cinematography into a canvas. Manuel Zamudio is a painter, a muralist, and a storyteller.
This show will be on view from November 4th until November 25th 2022.
OPENING OCTOBER 28TH
LITTLE CREATURES - New works by JUAN SANABRIA
A new capsule collection of 7 works.


In Little Creatures, Juan immerses himself much more in his neo-Cubist compositions and brings us glimpses of a world that grows within his work. With some cute looking creatures created from his own style that resemble animals, without actually being animals. Where the satyr, and the vulgar coexist with beauty and what we choose to believe. "We are repetitive animals in a world where everything needs to be cataloged, labeled and validated, to be accepted"

Juan Manuel Sanabria, Corrientes, Argentina, 1984; is a contemporary artist, part of the new contemporary art movement, pop surrealism and cubism-digital.

 Owner of a masterful technique, Juan Manuel, presents us, in his works, his satirized vision of the current world. We can find in his art, characters in everyday situations, totally decomposed and digitized. Where by mixing colors, and geometries, with a hyper-realistic painting in a style that is totally recognizable, Juan Manuel gives us that magical and tragic sensation of what, according to him, is currently happening.
This show will be on view from October 28th until November 25th 2022.